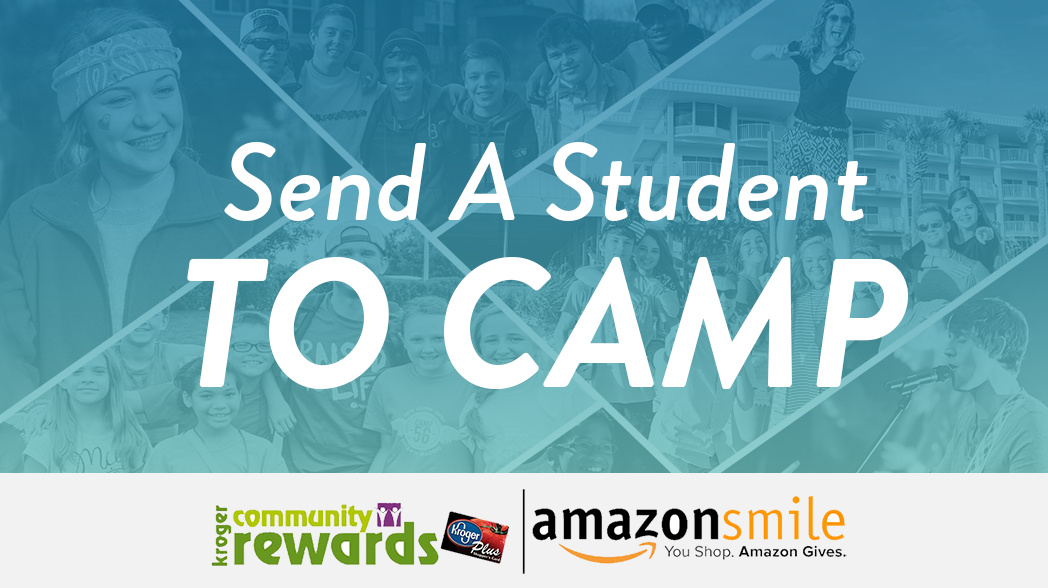 Student Camp Support
Every Sunday
New Vision has partnered with Kroger Community Cares & Amazon Smiles to help send our students to camp. It's simple, automatic, and doesn't cost us anything extra! Just register your Kroger Plus Card and/or Amazon account and every time you make a purchase, they'll contribute funds to help send our 5th-12th grade students to camp! It's really that easy.
How to Register for Kroger Cares

This is going to sound like a lot to do, but it's really not! We promise. And if you run into any snags at all, their customer support is top notch!
1. Register online at Kroger Community Rewards

2. Be sure to have your Kroger Plus card handy so you can register it to New Vision. If you don't already have a Kroger Plus card, you can pick one up at the customer service desk at any Kroger location. They are free. In addition to helping our students, you'll also get lots of deals and savings at the cash register!

3. Click on Sign In/Register. If you don't have an online account, just click on SIGN UP TODAY in the 'New Customer?' box and follow the prompts. You'll get a message to check your email inbox. Click the link provided in the email. It'll take you back to the registration page.

4. Click on MY ACCOUNT and use your email address and password to proceed to the next step.

5. Click on EDIT KROGER COMMUNITY REWARDS. Type in your Kroger Plus card number and update or confirm your personal information. If you don't know your Kroger Plus number, just call 800-576-4377 and select option 3 to get it.

6. Enter NEW VISION in the "Find Your Organization" search box, select "New Vision" and click the ENROLL button. The church should appear in the Community Rewards section on your personal info page.

NOTE:
Purchases will not count toward our student ministry until after your card is registered. Also, when making purchases, you'll need to swipe your registered Kroger Plus card or use the phone number registered to your card.






How to Register for Amazon Smiles

Amazon makes you search for it a little bit, but it's really easy! If you don't have an Amazon account, go to https://www.amazon.com/ and follow the prompts to set one up. You do NOT have to have an Amazon Prime account to shop Amazon Smiles.
To Register for Amazon Smiles...
1. Sign in to your Amazon account and type AMAZON SMILE in the search field. A small box will pop up right under the search box. Click on the title or the little Amazon Smile icon and you'll be redirected to an info page. Click the GET STARTED button at the top right of the page.

2. In the PICK YOUR OWN CHARITABLE ORGANIZATION box, type in "New Vision Baptist Church of Murfreesboro" and click the SEARCH button to the right. Select our church, follow the prompts and begin shopping!

IMPORTANT:
For purchases to qualify for the donation, you MUST shop through www.smile.amazon.com. It doesn't change anything about your account or how you shop. You'll find the exact same low prices, vast selection and convenient shopping experience as Amazon.com, with the added bonus that Amazon will donate a portion of the purchase price to our student ministry!
The easiest thing to do is bookmark Smile.Amazon.com after you sign up and just begin your shopping there each time you go online.






FAQs

• Can I designate where funds go? No. Funds will automatically go into a general Student Ministry account.
• Can I designate funds to go to a particular student? No. Funds will go into a general Student Ministry account.
• How are funds dispersed? Funds will be used to help defray the overall cost for all students registered to go to camp. Discounted camp fees will depend on how much is available in the Kroger and/or Amazon funds.
• Will scholarships still be available? Yes! You may give partial or full scholarships at NewVisionSignUp.com!

If you have any difficulty registering, please use Kroger and Amazon customer support. If you have additional questions regarding how funds will be by our student ministry, feel free to email Wes Bynum.